Petition Challenging Entergy's Financial Qualifications to Operate FitzPatrick, Vermont Yankee and Pilgrim
On March 18, 2013, CAN joined with nuclear watchdogs in Massachusetts and New York to file an emergency enforcement petition against Entergy and three of its subsidiaries for failing to meet the NRC's financial qualifications requirements. According to predictions from the financial services firm UBS, FitzPatrick and Vermont Yankee are operating at a loss. The same might be true of the Pilgrim reactor, though no specific UBS analysis on the plant has been released. NRC regulations require companies to be financially qualified to operate their reactors so as to avoid a conflict between profit and safety. Read the petition and subsequently filed supplements here.


Vermont Yankee Nuclear Decommissioning Citizens Advisory Panel
Find more information about the CAP, as well as links to videos of their meetings at our Citizens Advisory Panel page
Visit the Vermont Public Service Department page for Vermont Yankee and the Citizens Advisory Panel
Factsheet about the CITIZEN ADVISORY PANEL for Vermont Yankee Decommissioning
Also contains the language about the CAP from the budget.
Memorandum of Understanding and Settlement Agreement Between Entergy, State of Vermont
From December 23, 2013.
Cover letter to memorandum of understanding
Memorandum of understanding
Settlement agreement
Recordings from 10/28/13 Legislative Hearings
On October 28, 2013, the Vermont House Committees on Natural Resources and Energy and on Commerce and Economic Development held a joint meeting in Vernon to take testimony on the economic impacts on the region of the closing of Vermont Yankee, mitigation strategies and the legislature's role. Many groups and individuals testified, but due to technical problems only a few recordings are available.
Widham Regional Planning Commission - Chris Campany, Executive Director, and Tom Buchanan, Member
Selectboards and Town Planning Officials - Patty O'Donnell, Chair of Vernon Selectboard, Stephen Skibniowski, Vernon Planning Commission, and Rod Francis, Brattleboro Planning Director
Public Hearing - Members of the public
Other Information
Information on Decommissioning
Size: 222K
Citizens Advisory Board paper
Size: 204K
Public Participation and Democracy, Citizen Advisory Boards, created by Citizens Awareness Network
Decommissioning Brochure
Size: 2,360K
Information on cleaning up Vermont Yankee safely and completely
Flyers
Below you will find printable information we have released to help people understand why vermont Yankee needs to be closed. Files are in PDF format and Acrobat Reader or Fox-it Reader is required to view and print the files. Please distribute these files in print or electronic form to anyone who may be interested!


Tabloid
Size: 8,000K
Contains all of the basic information behind our campaign, including what Act 160 is and why Vermont Yankee needs to close in 2012!


Pull The Plug on Vermont Yankee
Size: 800K
What will happen when Vermont Yankee closes? Will it really cause electric prices to skyrocket? Or is that just fud spread by Entergy? Find the truth in plain english in this brochure!
Entergy's Record in Vermont
Size: 800K
Can we afford to do business with Entergy for another 20 years? Find out the corporation's record of misinformation and broken commitments in Vermont and other states.
No Good Deal: What Happens When Vermont Yankee Closes in 2012
You will hear from Entergy Vermont Yankee how important Vermont Yankee is to the state and how we can't live without it. In the past they've mounted a costly advertising campaign promoting their position. We can expect that they will spend even more money this year. Entergy says:
• Vermonters will pay more for power if Vermont Yankee is not relicensed.
• Vermont will lose jobs and revenue if Vermont Yankee closes.
• We can't replace Vermont Yankee's power before 2012.
• Vermont Yankee is clean, safe, and reliable.
• Any replacement power would contribute to global warming.
• Vermont needs baseload power.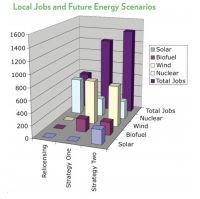 Let's look at each of these points:
Paying More for Power: Entergy is not offering any deals that benefit Vermont. Over time, the relationship with Vermont Yankee will cost more than alternative, sustainable resources. Entergy Vice President Jay Thayer made it clear that electric rates will rise and that Vermonters will join the rest of New Englanders with wholesale rates as high as 8-9 cents KWh.
If we replace Vermont Yankee with efficiency and in-state renewable energy, we can actually provide lower electric rates than Vermont Yankee after 2012. Efficiency is the cheapest source of "power" available at 2-3 cents per kWh. Even VY's current cheap rates are roughly 50% higher than efficiency, and by 2012 those rates will be gone forever. The Department of Public Service estimates one renewable portfolio alternative at 7.1 cents and market rates at 8.7 cents in 2012 and rising thereafter.
Jobs: Entergy employs 218 people living in Vermont. The number of good jobs that could be generated through efficiency and the creation of other power plants would supersede what Entergy contributes to the state. For example, biomass would create 4-5 jobs per megawatt. Energy Efficiency Vermont currently employs 150 people, and would need more if their programs were to expand. Additionally, closure can lead to continued employment for Yankee workers who can engage in the cleanup of the contaminated site for 15 years or longer. Even employing rapid dismantlement, 25% to 50% of workers were retained in the clean up of Yankee Rowe and CT Yankee.
With a commitment to renewables, conservation and efficiency, Vermont could become a leader in job creation based on alternative energy.
Replacement Power by 2012: A lack of preparation over the past six to ten years has contributed to a possible crisis situation regarding our power supply. CVPS recently stated that it could replace Vermont Yankee and enter into an agreement with other generators if needed. Remember, Vermont Yankee only provides about 250 MW of power to Vermont - the rest is sold out of state.
We can replace Vermont Yankee through a diverse package of energy solutions that include biomass, renewables and most importantly efficiency. A 2007 Department of Public Service report showed that efficiency could reduce power consumption in Vermont by 215 MW by 2015, a significant part of the 250 MW Vermont Yankee produces for Vermont.
Clean, Safe and Reliable: Vermont now has a high-level radioactive waste dump on the banks of the Connecticut River for an undetermined period of time. This was never part of the bargain 37 years ago and it is not clean or safe. This plant was designed to run for 40 years, not 60, not 80 (if ENVY is relicensed for 20 more years, it is believed that they will apply for an additional 20 years). This plant does not meet present day design safety standards and could not be built today. The only reason for VY to continue operating is to product more high profits for Entergy. Moreover, given Vermont Yankee's flawed management and age has lead to a series of mishaps over the last few years, there is no guarantee the reactor will prove reliable in the future. In these volatile times it would be wiser to create a diversified energy package that would benefit the state.
Environmental Issues: Because we propose to replace Vermont Yankee with efficiency and electricity generated via renewable means, closing VY would not produce additional greenhouse gases, and would completely eliminate further production of radioactive waste.
Baseload Power: We have "baseload power" without Vermont Yankee. Vermont Yankee's power contribution to the New England grid is only 2% and can easily be replaced with other cleaner and safer options.In fact, a considerable amount of Vermont Yankee's power can be replaced through efficiency which would considerably reduce the amount of baseload power needed.
An organization called New England Independent System Operator assures that the grid provides Vermont with reliable baseload power 24/7. That said, it is imperative that Vermont create safer and more reliable power sources that do not leave us with legacy costs like managing high level, radioactive waste.
CAN VERMONTERS BENEFIT FROM REPLACING VY IN 2012?
Vermonters are not the first consumers to face this situation. The citizens of Sacramento, California voted to close the Rancho Seco reactor in 1988. The Sacramento Municipal Utility District (SMUD), owners of the reactor, replaced the power with a diverse package of energy solutions including small hydro, gas, solar, wind, efficiency and conservation. Rancho Seco was a large 1,000 MW reactor. Vermont's portion of Vermont Yankee is about 25% of that.
Much of the skilled workforce at Rancho Seco was retained and employed in clean up activities. SMUD has engaged in a slow, thorough cleanup of the site since it did not have enough money up front to decommission the site. If the sixth largest public utility can figure out how to replace nuclear power with sustainable and efficiency, Vermont should be able to do the same.
VERMONTERS WANT CHANGE!
A WCAX poll last year showed that 52% want to see the nuclear power plant closed. Only 29% want to see it continue past its designed lifecycle. Other polls have shown that as many as 70% of Vermonters would prefer to move towards alternatives other than nuclear.
WE CAN DO BETTER
Vermont is at a crossroads. We can be leaders and innovators - or not. We have the opportunity to lead the way and set the tone for clean, safe energy for generations to come. Or, we can just do the same old same old and let our kids, grandchildren and their grandchildren deal with the consequences. For those who hold Vermont's best interest at heart, the decision will be clear.